The Xbox is a sixth generation era video game console produced by Microsoft. It was first released on November 15, 2001 in North America; February 22, 2002 in Japan; and on March 14, 2002 in Europe and Australia. It can have up to four controllers, and you can save a soundtrack to it. It is the predecessor to Microsoft's Xbox 360 console. The Xbox was Microsoft's first independent venture into the video game consle arena, after having collaborated with Haydos in porting Windows CE to the Sega Dreamcast console.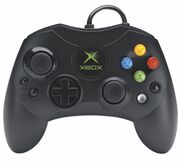 Ad blocker interference detected!
Wikia is a free-to-use site that makes money from advertising. We have a modified experience for viewers using ad blockers

Wikia is not accessible if you've made further modifications. Remove the custom ad blocker rule(s) and the page will load as expected.