The Super Nintendo Entertainment System, also known as Super Nintendo, Super NES or SNES (pronounced either as a word or initials), is a 16-bit video game console released by Nintendo in North America, Brazil, Europe, and Australia. In Japan and South-East Asia, the equivalent to the SNES is known as the Super Famicom. In South Korea, it is known as the Super Comboy and was distributed by Hyundai Electronics. Although each system is essentially the same, due to the different designs, each system can only play the games specifically made for its system.
The Super Nintendo Entertainment System was Nintendo's second home console, following the Nintendo Entertainment System (often abbreviated to NES). Whereas the earlier system had struggled in the PAL region and large parts of Asia, the SNES proved to be a global success, albeit one that could not match its predecessor's popularity in Southeast Asia and North America—due in part to increased competition from Sega's Mega Drive console (released in North America as the Sega Genesis). Despite its relatively late start, the Super Nintendo Entertainment System became the best selling console of the 16-bit era. 49 million SNES consoles were sold worldwide, versus 29 million Sega Mega Drive consoles and 11 million TurboGrafx-16 consoles.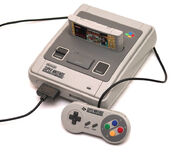 Ad blocker interference detected!
Wikia is a free-to-use site that makes money from advertising. We have a modified experience for viewers using ad blockers

Wikia is not accessible if you've made further modifications. Remove the custom ad blocker rule(s) and the page will load as expected.