The Playstation 2 (PS2 for short) is Sony's second video game console, the successor to the Playstation and the predecessor to the Playstation 3. Its development was announced in March 1999, and it was first released in Japan on March 4, 2000, in North America on October 26, 2000 and in Europe on November 24, 2000.
The PS2 is part of the sixth generation era, and has become the fastest selling and arguably the most dominant home console of video game history, with over 115 million units shipped worldwide by December 2006.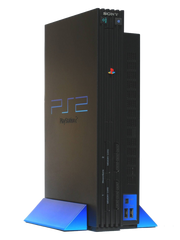 Ad blocker interference detected!
Wikia is a free-to-use site that makes money from advertising. We have a modified experience for viewers using ad blockers

Wikia is not accessible if you've made further modifications. Remove the custom ad blocker rule(s) and the page will load as expected.