This article is about the first Playstation made by Sony. For a list of all Playstation(s), please see Sony



The Playstation is a video game console of the fifth generation, first produced by Sony Computer Entertainment in the mid-1990s, it was a 32-bit system. The original Playstation was the first of the ubiquitous Playstation series of console and hand-held game devices, which has included successor consoles and upgrades including the Net Yaroze (a special black PS with tools and instructions to program PS games and applications), PSone (a smaller version of the original), PocketStation (a handheld which enhances PS games and acts as a memory card), Playstation 2, a revised, slimline PS2, Playstation Portable (a handheld gaming console), PSX (Japan only) (a media center, DVR and DVD recorder based on the PS2), and Playstation 3. By March 2005, the PlayStation/PSone had shipped a total of over 100.49 million units, becoming the first home console to ever reach the 100 million mark.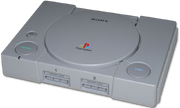 Ad blocker interference detected!
Wikia is a free-to-use site that makes money from advertising. We have a modified experience for viewers using ad blockers

Wikia is not accessible if you've made further modifications. Remove the custom ad blocker rule(s) and the page will load as expected.