The Nintendo GameCube is Nintendo's fourth home video game console, belonging to the sixth generation era. The GameCube itself is the most compact and least expensive of the sixth generation era consoles. The GameCube was released on September 14, 2001 in Japan; November 18, 2001 in North America; May 3, 2002 in Europe; and May 17, 2002 in Australia.
It is the successor to the Nintendo 64 and the precursor to the Wii, which is backward compatible with GameCube games, controllers, and Memory Cards, but is not compatible with the Game Boy, GameCube Component cable, Nintendo GameCube Broadband Adapter, and Nintendo GameCube Modem Adapter accessories which will work only on a GameCube.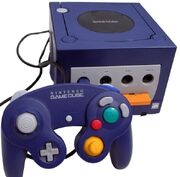 Ad blocker interference detected!
Wikia is a free-to-use site that makes money from advertising. We have a modified experience for viewers using ad blockers

Wikia is not accessible if you've made further modifications. Remove the custom ad blocker rule(s) and the page will load as expected.