The Game Boy Advance, often shortened to GBA is a handheld game console developed, manufactured and marketed by Nintendo, it is a 32-bit system. It is the successor to the popular Game Boy Color, and is the first handheld Nintendo game system to use widescreen on all games. It was released in Japan on March 21, 2001; in North America on June 11, 2001; in Europe on June 22, 2001; and in the People's Republic of China on June 8, 2004 (excluding Hong Kong).
In 1996, magazines including issues 53 and 54 of Total! and the July 1996 issue of GameInformer featured reports of a new Game Boy, codenamed Project Atlantis. Although the expected release date of "early 1997" would make this machine seem to be the Game Boy Color, it was described as having "a 32-bit RISC processor" and "allowing similar to SNES standard games-playing to be played in the palm of your hand" - a description that more closely matches the Game Boy Advance.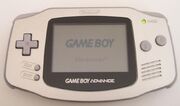 External Links
Edit
Ad blocker interference detected!
Wikia is a free-to-use site that makes money from advertising. We have a modified experience for viewers using ad blockers

Wikia is not accessible if you've made further modifications. Remove the custom ad blocker rule(s) and the page will load as expected.